Video production is not typically thought of as an industry that needs to take action when it comes to creating a sustainable future. Despite this, film production and the streaming of high-definition videos have a significant carbon footprint.
With video's continued dominance in the marketing landscape, the challenge for brands is finding ways to create high-quality and engaging content while considering the environmental impact.
To solve this problem, brands can adopt green video production practices such as reducing air travel, digitizing scripts, and minimizing post-production emissions using cloud-based tools. Not only are these practices eco-friendly, but they can also benefit the brand's success. According to the IBM Institute for Business Value (IBV), 51% of consumers consider environmental sustainability when choosing which brands to support. So, it's a win-win situation for both the brand and the planet.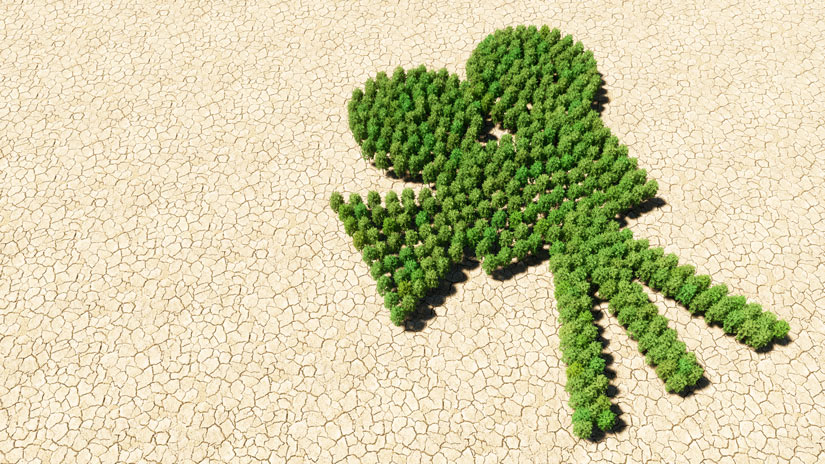 Here, we showcase five winning strategies for green video production to help your business reduce carbon emissions while boosting engagement and results.
Consider Local Crews & Resources to Minimize Travel

One of the most effective ways to reduce carbon footprint in video production is by sourcing local production crews and talent. This approach eliminates the need for travel and transporting bulky filming equipment over long distances, a major contributor to CO2 emissions. By opting for local talent and equipment, you help mitigate the environmental impact and support local businesses and economies.

Tip – You may be surprised to learn that hiring local production crews or individual technicians can be more cost-effective than flying in your in-house production team.

Consider partnering with an international video production agency. Their broad reach of crews in various locations can be very beneficial in finding the right creative services for your brand. Such a partnership can also result in cost savings and faster turnaround times, as there are fewer logistical hurdles to deal with.

Direct Your Video Shoots Remotely

It's worth noting that adopting travel-free production methods, such as directing your video projects remotely, has several benefits. Not only is it more eco-friendly, but it's also cost-effective. By partnering with a reputable global agency, you can play your part in reducing the impact of climate change.

By directing your video projects remotely, clients can also expect a more dynamic and tailored experience, as the production team has the ability to closely collaborate and engage in the creative process in real-time via a virtual meeting platform like Zoom. This approach allows for greater flexibility and customization, ensuring that the final product accurately reflects the vision and objectives of the client.

Use Eco-Friendly Equipment

When choosing equipment for your video production, consider the ecological impact of the gear used. Look for eco-friendly gear such as LED lighting or solar-powered batteries. Use recycled or upcycled materials whenever possible to reduce the amount of waste generated.

Make Use of Innovative Technologies

Incorporating emerging technologies into video production has the potential to completely transform the way we capture and create visual content. By leveraging the power of virtual reality, drones, and hyperlapse, filmmakers can capture unique perspectives that were previously impossible to achieve. With these technologies, videos can now be produced with stunning visual effects and breathtaking imagery that captivates audiences and takes their viewing experience to a whole new level.

These filming options can be used to create content without a physical set, reducing the amount of resources used in production. Ultimately, they can cut down on the climate impact of a video production project.

Implement a Cloud-Based Workflow in Post-Production

During post-production, consider implementing environmentally friendly practices, such as utilizing cloud-based workflows. This approach can expedite the editing process by increasing efficiency. Additionally, explore methods for repurposing and recycling footage and leveraging existing assets for optimal resource management.
Whether you are a large organization or a small business, you can benefit from adopting more eco-friendly strategies in your video production process. Take the time to analyze how you can reduce your environmental impact and reap the benefits of a greener video production process.
Global Media Desk provides assistance in locating highly skilled and trusted local crews to minimize travel and production expenses. Our dedication to sustainability and efficiency helps promote a positive impact on the community.
If you have any questions about shooting in any country around the world, please don't hesitate to get in touch with us. We would be more than happy to help you and provide you with a free online quote to find out how we can make your international video projects a success.
Editor's Note: This post was originally published in April 2023 and has been completely revamped and updated for accuracy and comprehensiveness.