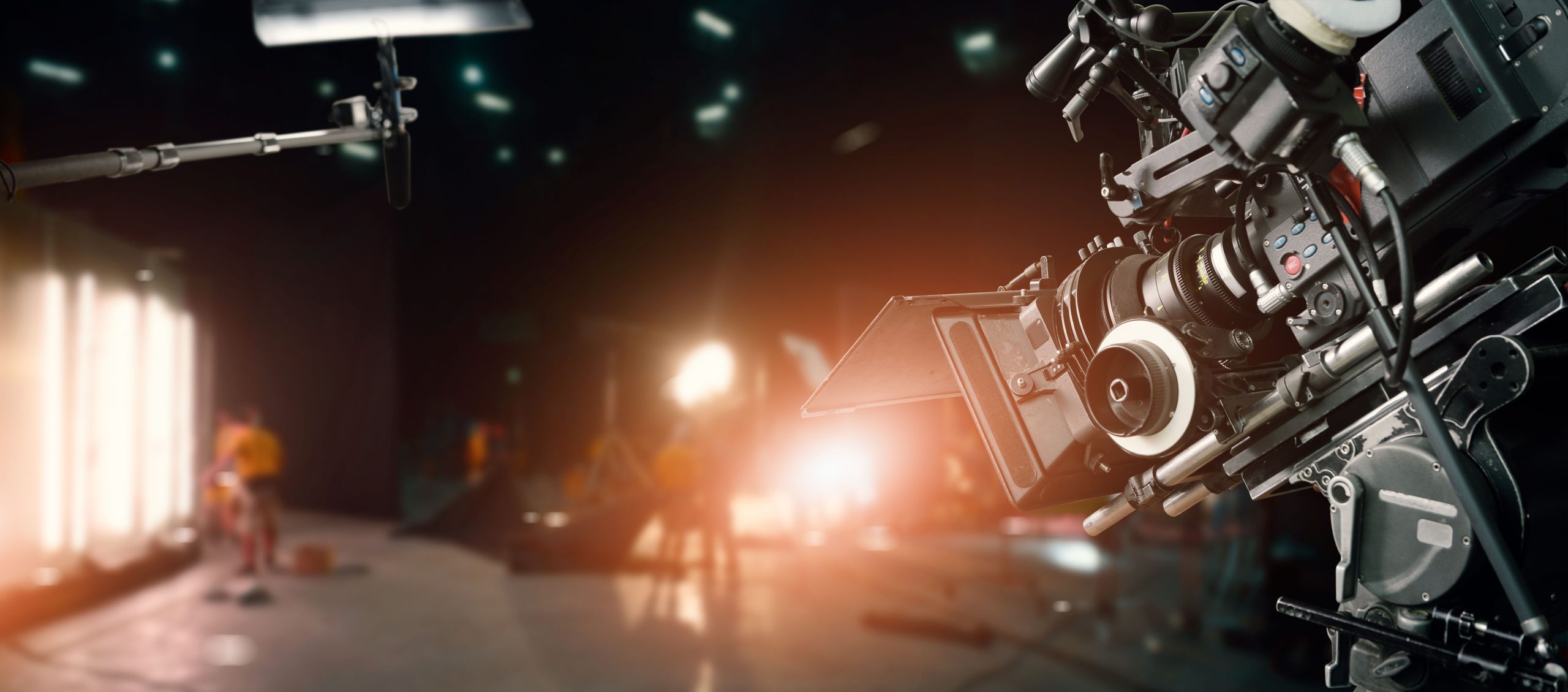 If you're new to video production or just planning your first video project to grow your brand, you may wonder how long it takes to produce a video. Creating a video production timeline involves not just the actual filming but also coordinating with a production company, juggling deadlines, managing tight schedules, and budgeting.   
In any case, it is essential to carefully plan every stage of the production process because one misstep along the way could also throw off your budget and timeline. Keep reading as we break it down the process:
Timeline for Producing a Marketing Video 
Video production is a relatively long process, and the timeline will highly depend on the video length and type.  In general, if we're looking at producing a 3-minute video with a b-roll, interviews, and motion graphics, the process could take up to three to five weeks. Sounds quick, but definitely possible.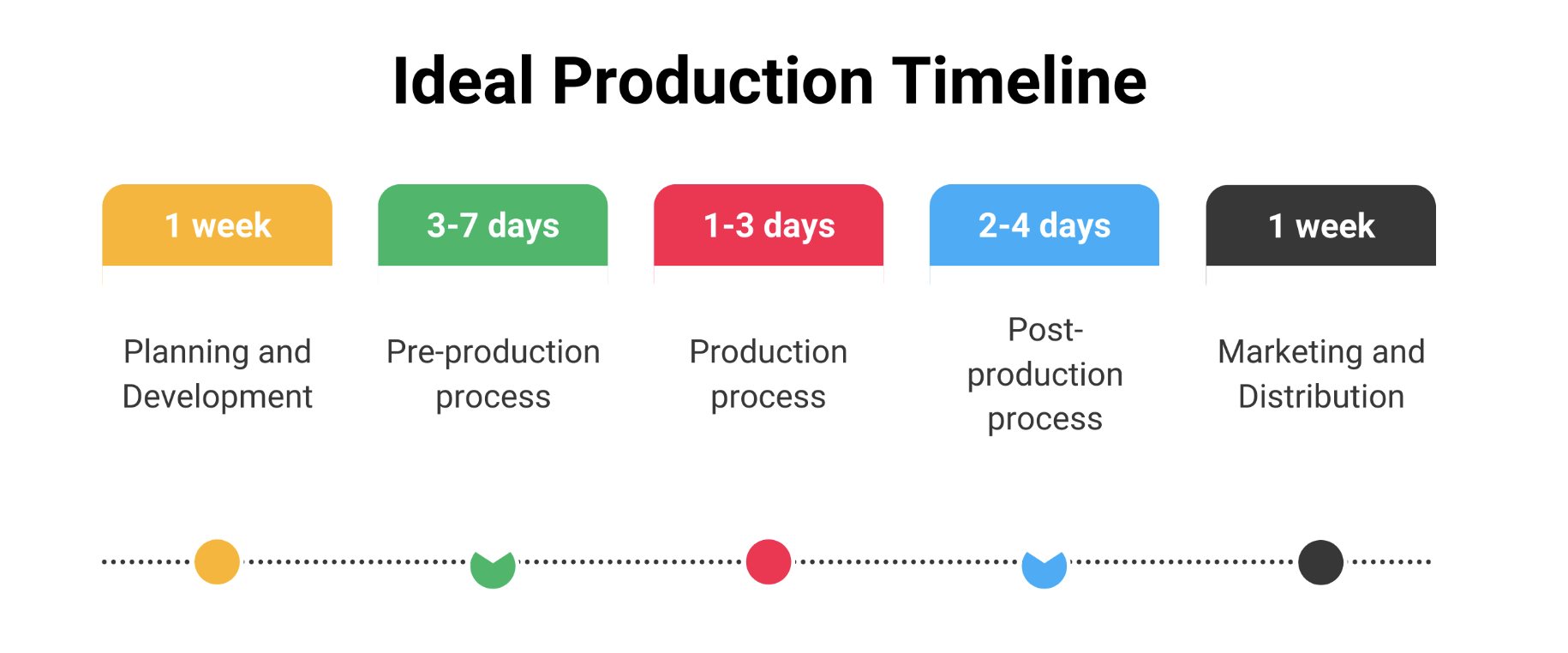 Strategy Planning and Development (Est. 1 week) 
Before you kickstart the video production process, you should first establish a plan. Next, understand what you want out of your video – your goals. After that, you can start liaising with a production company that can help you with the overall process.   
But before setting up a meeting, answer these questions: 
Who is your target audience?

 

What actions do you want them to take?

 

What is the message you want to get across?

 

What is your ideal budget?

 
Once you've narrowed these down, the production company will have a clear picture of your video project. Next, they need as much information as possible to develop a creative brief which includes project goals, scope and specs, timeline, video type (narrative or interview-based), talents needed, target locations, and a proposed budget for the project. This process can take about a week.   
Pre-production (3 to 7 days) 
This step includes creative development and logistical planning, which typically takes up to a week, depending on the project's scope; the simpler the content, the quicker the timeline.  
To give you a better idea, let's break this down: 
Scriptwriting

– Writing a script includes brainstorming concept ideas, research, the actual writing process, and getting approval. This usually takes up to 2-4 days of back-and-forth e-mails.  

 

Storyboarding or shot listing

– This happens just before a script is completed. A storyboard is a visual mock-up of the script, but not all script needs a storyboard; most of the time, video production companies would create a shot list instead of a storyboard. In general, this should just take a day.  

 

Logistical Planning

– This happens simultaneously with scriptwriting and storyboarding. From the planning stage, the production team should know everything needed for logistics: location hunt, hiring talents, equipment required, identifying crew members, and developing a shooting schedule. It is safe to say that four days is enough to do this process.  

 
Production (1 to 3 days) 
Once everything is set up, and your script is approved, you can finally shout, "Lights, Camera, Action!". This phase is the actual filming stage which can take just half a day, especially if you nail the pre-production stage. But in the worst-case scenario, when the post-production team requests an additional shoot – it extends the video production timeline.   
If your target location is overseas, we suggest ditching complicated travel and getting your video produced with local talents.  
Read More: How to Produce Your International Media Project Without Traveling 
Post Production (2 to 4 days) 
After wrapping up the video shoot, the next step would be post-production – where the magic happens. Post-production includes processing footage, cutting, laying b-roll, mixing music, editing, adding graphics, color grading, and multiple video review rounds. Again, using a three-minute video as a baseline, two to four days is the safe bet, depending on the speed of the approving process.   
Marketing and Distribution (1 week) 
Before getting a go signal to launch a video, a promotional or marketing strategy should be mapped out. If you have a video production team, the best way to plan your marketing strategy is during the production and post-production phases since you already have the good guys taking care of those processes. 
Here are some tips to promote your video: 
Write a blog on your website

 

Share it on social media

 

Reach out to influencers who can promote your video

 

E-mail marketing through newsletters

 

Put some money and run a campaign ad

 

Share it with online communities

 

Play the video at an event

 
Producing a video is more than just pressing the record button on your camera. When you work with a renowned video production company and have a schedule to guide you, there is no doubt that the project will be done on time, on budget, and on message. 
Tell Us About Your Project 
Are you looking for the best video production company to collaborate with? We're passionate about getting your story made. The planning, shooting, editing, and delivering of your video to help your business grow is on us. Tell us your vision, and our in-house creative team will get in touch with you. 
Get a quote here.