Every brand has a story, but not all companies know how to tell them. Storytelling is more than just entertainment; it's about connection and communication. It is a powerful skill that every brand should master.  Before we go to the five storytelling techniques for an engaging brand story, let's discuss why learning storytelling techniques is essential for your business. 
Why is storytelling important in business?
For many years, marketers have used storytelling to humanize their brands, increase brand awareness, create a strong marketing strategy, and improve profit. A great story can change the way people think and act. That's why storytelling needs to be a crucial part of your marketing strategy. 
 
Persuasive Storytelling Stats (Nielsen)
27 million pieces of content is shared daily
We check our phones 150x/day and our email 30x/hour
The information posted around the world is doubling every 18 months
 
That's a lot of content! So how do brands stand out? Here are the five storytelling techniques every business needs: 
Put Your Audience First
Of course, every good business story focuses on its target audience. First, think about their pain points: What do they need? How can you help them? Once you understand your audience and their needs, it will be much easier to identify your role in their lives.   
Your audiences should be at the heart of your story planning. Be relatable. One thing that you can do is ask rhetorical questions.  
Here are some examples: 
Stimulate a memory: "

Do you remember the time when you first joined Facebook?"

 

Evoke an emotion: "

Have you ever felt like people don't really understand you?"

 
Get Personal
You need to create an emotional connection. Crafting a story can be exciting, but keep it accurate and authentic. Storytelling is not a sales pitch; if you try to make it like a marketing fairytale, your audience will immediately notice it.  
"The best storytellers look to their memories and life experiences for ways to illustrate their message," says Carolyn O'Hara in her Harvard Business Review article. And a narrative that doesn't emotionally connect to an audience is not a story but just information. 
Take Your Audiences on A Journey
The best stories are the ones that create emotional reactions. Of course, it takes a lot of practice to win the hearts of your audience. But, when audiences connect with the brand's message and believe in the business and what it stands for, that's how you win the game. 
Create stories with a beginning, middle, and end. One of the best ways you can do this is by using the three-point act.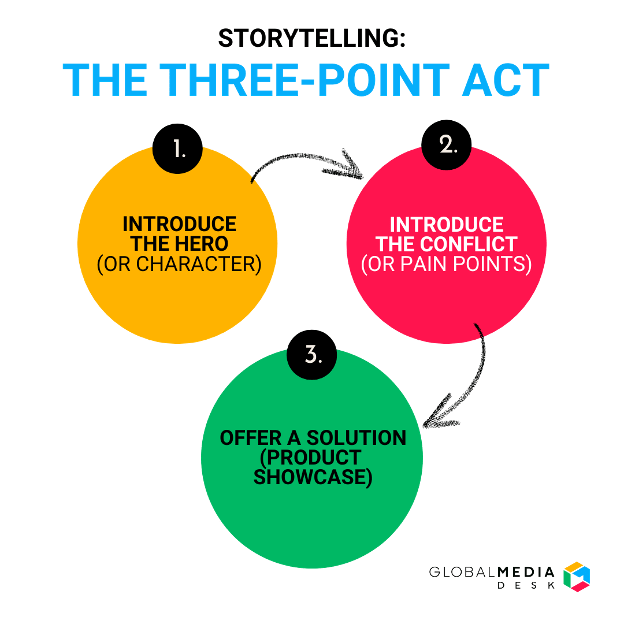 Show, Don't Tell
Now, the golden rule: Show, Don't Tell. 
This technique is used in many stories, allowing audiences to experience the story through actions, words, thoughts, and senses. For example, don't tell your audiences how excellent your services or products are. You can instead show them what it feels like to be a client.   
One way to do that is through visual storytelling. This approach is the winner for capturing your target audience quickly and effectively. Viewers will notice it immediately, in as little as 13 milliseconds – faster than it takes to blink an eye.   
Learn more about the benefits of visual storytelling here. 
Create Suspense
Adding suspense to your story is one powerful way to keep your audience engaged. Keep them hooked and leave them wanting more. After learning about your story, people should think about it the whole day.   
You can ask a question or even put a twist at the end of the story. Your goal should be the talk of the town. When a story interests people nowadays, they will surely post it on social media or share it with their friends. And audiences that are engaged are most likely to become returning customers.   
Tell your story with Global Media Desk 
To tell a good story is the key to your audience's heart and mind. Global Media Desk has top-of-the-line visual storytellers and international content producers. We aim to help you bring your stories to life and make a more significant impression on your target audiences.  
We take care of the scriptwriting and the whole video-making process – generating the look and feel of the video, casting, filming, editing, and everything in between.   
Do you need someone to help guide you through our process? Please send us an e-mail at gmd@globalmediadesk.com or visit our website at globalmediadesk.com.