Thanks to the growth of broadcast media technology, more of the world can join in the celebration of sportsmanship and athletic achievements that is the Olympic Games. From the historically triumphant gold medal wins of Jesse Owens in 1936, to the record breaking achievements of Michael Phelps in 2008, innovations in broadcasting have allowed for everyone to experience the thrill of the Games.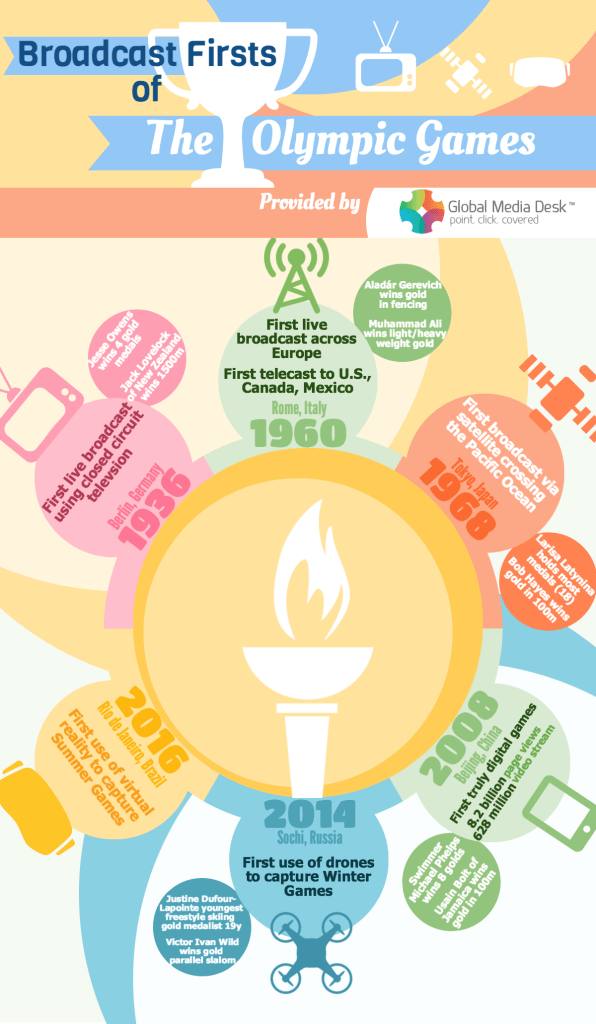 Need Coverage for an Upcoming Sporting Event?
Global Media Desk has local crews, photographers, and satellite services in Brazil and throughout the world, who are ready to get you the coverage you need. Click here to find out more about this year's biggest sporting event and how Global Media Desk can help: http://videoproductionbrazil.com/sports-events-production-services/.
About Global Media Desk
Global Media Desk has been providing on-demand, high-quality, local satellite and up-link services, production crews, photographers, and interpreters in Brazil and around the world for over 15 years. We have seen and done it all, so please feel free to contact us with any questions you may have about events in a specific country or region. Ready to hire the best local crew for you project? Fill out our free quote form and you can have access to the highest-quality crews. It is as simple as point. click. covered.
DISCLAIMER: "Olympic", "Olympic Games", and "Rio 2016" are registered properties of the International Olympic Committee (IOC), which does not sponsor, authorize or endorse this site. Any reference to "Olympic", "Olympic Games", or "Rio 2016" is used purely for editorial and informational purposes.