Lit up by fireworks, stars, and the glowing moon, the summer night sky can be a pretty spectacular sight. But capturing those breathtaking views when you don't have your trusty DSLR can be more than a little frustrating.  With just a few simple tips you can photograph the night sky with your phone like a pro and say goodbye to grainy dark photos.
Find the Perfect Spot
For the best pictures, finding your ideal photo position is the first step. If you are photographing fireworks, scope out the area beforehand and find the best vantage point. Be prepared if it's a windy night. Smoke could affect the look of your photos.
Keep It Steady
Using a tripod can keep your phone steady, which is essential in low-light conditions. There are numerous smartphone adapters and tripods available on the market ranging from $10 to $50 depending on your preference.
Keep in mind we don't recommend the 'selfie-stick,' since plenty of places have chosen to ban them. Just check the rules before packing for your trip.
Turn Off Flash, HDR or Zoom
The flash on most smartphones only lights up about 10 feet in front of you, which can turn the crowd and the night sky into an abyss of darkness. The HDR setting will only slow down your camera phone, which is exactly what you don't want during a fireworks show. Try avoiding the zoom feature, as it will reduce the image quality and add more graininess to your photos.
Night Camera Apps
If you are using an iPhone's native camera app with iOS 8, there's a new tool for manually adjusting the exposure of your photos. Simply tap and hold the screen, when the AE/AF LOCK pops up, scroll up or down for your desired exposure.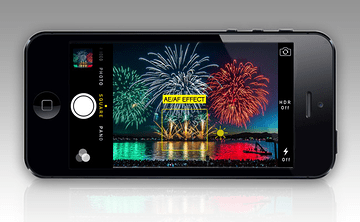 You can also try downloading a third-party app like NightCap or Night Modes for iOS, Camera FV-5 for Android, or CameraPro for Windows Phones, offering more flexibility.
NightCap: https://itunes.apple.com/us/app/nightcap/id486414195?mt=8&ign-mpt=uo%3D8
Night Modes: https://itunes.apple.com/us/app/night-modes/id572215621?mt=8&ign-mpt=uo%3D8
Camera FV-5: https://play.google.com/store/apps/details?id=com.flavionet.android.camera.pro&hl=en
CameraPro: http://www.windowsphone.com/en-us/store/app/camerapro/ee7b9093-62ec-48f5-9364-1b192509c86f
Set ISO to Low if Using a Tripod
Some phones, such as the Samsung Galaxy, already offer a night mode or manual control of ISO settings. If you are using a tripod, set the ISO to a low value such as 100 or lower to get the best results.   If you are not using a tripod, then a higher ISO would be a better option.  Experiment beforehand to make sure you get the most out of your nighttime photos.
Bonus Tip: Accessorize Your Phone
If you are really serious about photo taking with your phone, there are tons of add-ons to make your smartphone camera act like a DSLR. From fisheye to optical zoom lenses, these extras can offer both versatility and quality to your phone's camera.
Share Your Best Photos With Us!
Whether you are photographing fireworks this weekend for a Fourth of July celebration, or just inspired by a clear night, we want to see your photos! Use the hashtag #GMD_NightLife to share your favorite photos with us.
About Global Media Desk
At the Global Media Desk we have been helping organize successful photoshoots around the world for fifteen years. We have seen and done it all! Please contact us with any questions you may have about shooting in a specific country or request a free online quote to see how we can make your photoshoot a complete success.